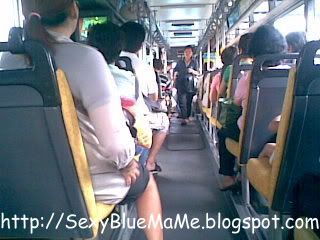 This ain't a scene, it's a bad rush for the seats. Back during the 90s, people were pretending to act cool and arrogant and purposely chose to stand when they could have sat down on empty seats. Almost like as if their ass is too damn expensive to touch public seats, in fact, it's so expensive that Jennifer Lopez had to insure her own bum first.

And now, when the bus companies, especially TIBs in particular decide to take away some seats to make the buses accommodate more passengers, these same cool pretenders and arrogant ass-y people would rush for the seats as soon as they get on the bus on train.

It's like, previously their ass is too cool and now, their ass is too precious to be standing. I'll say, bus captains should have taken down their names and addresses and when these ass-y people get on the bus in future, they shouldn't be allowed to seat, due to the fact that they chose not to seat during the 1990s.

And enough on my part. If you're a regular '90s person who chose seating over standing, you'd definitely understand what I'm trying to make sense here.