So, it has definitely come to my utmost attention that I need to focus on 3 important things pertaining to my blogs. Without further adieu, let's focus on what else needs to be done for my 3 blogs that I'm currently and concurring updating on a daily basis.
(Well, not daily for all 3 actually lol but at least between daily to once every 2 days at most for important blog posts to "sink in")
.
First
AND
second issue at hand, I definitely need to add in pages for these 2 blogs of mine:
Even if I do not intend to put in any
About Me
pages, nevertheless, I would still need to "introduce" my blogs, not only to my current readers, but also to new readers too. Can't really stand it if anyone starts scratching their head and wondering what this blog is about, huh?
Also most importantly for
Pu Niao's Beauty Junkie Reviews
blog, I definitely do need a page or 2 that explains beauty jargons and buzz words. If not, I would have to keep explaining each and every single scientific term everytime I use them.
Pronouncing some of those words are already quite a moutful, imagine trying to explain them repeatedly. I dare assure myself that 3 aspirins are not going to help me out this time. In other words, better to get it over with than to keep thinking "What if..", "But.." and so on and so forth.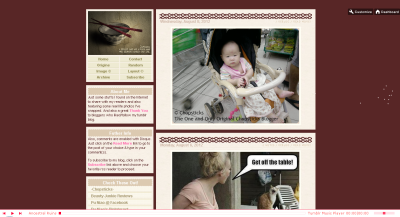 This is the new layout for my Tumblr blog. Begone! old weird layout done by me~
And now to the 3rd issue regarding my tumblr blog,
Chopsticks: Online & Offline
. If you happened not to know I have a tumblr blog as well, here's the chance to know a little more about it. My tumblr blog basically include postings about stuffs I found on the Internet to share with my readers and also featuring some real life photos I've snapped. Technically speaking, uploaded images from the Internet and real-life snapshots that I just want to share without elaborating too much.
And to those of you beautiful readers who might be unsure what tumblr blogs about, here's an explanation:

Tumblr is perfect for people who don't need a full blog to publish lengthy posts. It's also great for people who prefer to publish quick multimedia posts, particularly from their mobile devices. Tumblr is also a great choice for people who want to join a larger community. If a blog is too much or too big for you, but Twitter is too small or too little for you, then Tumblr might be just right for you.

Source: http://weblogs.about.com/od/choosingabloghost/p/What-Is-Tumblr.htm

What I really need to do for my Tumblr blog is to re-model the layout of it. I've seen some rather unique, interesting and cute tumblr themes on the Internet. And I am trying to see if my rusty HTML skills is able to help me re-model it into something that's distinctively unique as my own handiwork.
You may be thinking, "What? More re-modeling?" Well, after all, I'm proud of my self-taught HTML skills. The school instructor who taught my class about HTML suck so much we all pretty much had no idea what she was trying to say. Uber fast than any machine gun in existence and she didn't even bother to find out if we all understood what she said. It just seems like she's trying to finish teaching our class as fast as she possibly can and get the hell out of our school. Bad instructor, I'd say.
I kind of ended up self-teaching myself HTML via anime fan sites. Fan sites and fan shrines in the 90s were pretty straightforward and easy to understand, unlike now where we have CSS stylesheets, xHTML blah blah. It was just a simple method of copying an entire HTML page, then dissecting what does what and which goes where, stuffs like that.
I figured I can try hunting down some Tumblr layout tutorials and try to see what I can achieve. Shouldn't be too hard if it's just a simple layout I'm trying to achieve for my Tumblr blog.