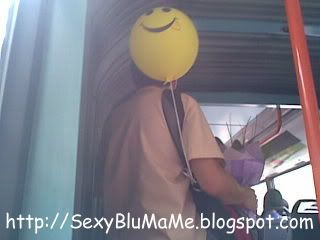 Mama Pu: Is that a guy or a girl?
Pu Niao: Oh, it's a... guy with ballooons? So lucky!!
Mama Pu: Very unusual for guys to receive flowers and balloons...
Pu Niao: Must be a girl who's into Japan and all things Japanese, I think??
Mama Pu: Why?
Pu Niao: In Japan, girls give out chocolates, called
giri choco
(obligatory chocolates) to the guy(s) she likes.
Mama Pu: Chocolate very normal mah!!
Pu Niao: But on 14 March, which is Saint White's Day, guys are obligated to give something white to the girl he likes the most.
Mama Pu: Wah! So
cheem
(
cheem
means profound)..