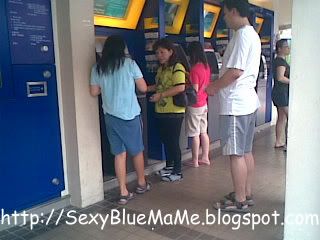 It was a sunny Sunday afternoon, I recalled. We went to the market to catch a late breakfast/early lunch and my mother decided to deposit some money into her account. The queue stretched all the way out into the blistering open sun, nobody said a word, but everyone knew the scorching heat was unbearable. Somewhere right in front of the cash deposit machine, the woman whose fashion sense was so outdated and whose knowledge of machines was equally outdated, was trying to deposit money into her bank account via the money deposit machine.
She don't know how to use the machine and yet refused to yet her daughter help her out, instead relying on the help of a total stranger. Meanwhile, the rest of the queue was stuck under the blistering heat on a Sunday. Irritated, I walked up and hissed, "Why don't you wait till Monday when there will be tellers available in the bank to help you, where you can look somewhat smarter in an air-conditioned bank?"
Still, she refused to budge and when she finally did managed to deposit her money, everyone in the queue behind her breathed a sigh of relief. That they can get the queue moving at regular speed and also to be able to get out of the sun...