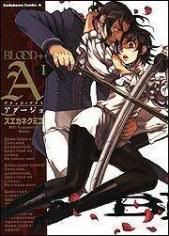 The final chapter of
Blood+
may have concluded its run, but the long history between Saya, Hagi and Diva still remains ever as elusive. What kind of a relationship did Saya and Hagi have before Saya lost her memories? How did Saya cope with being a slayer in the early parts of her life? And how did Diva manage to escape capture time and time again?
Blood+ Adagio
is a two-part series that attempts to answer some of these questions. A spin-off series of
Blood+
,
Adagio
focuses on a part of Hagi and Saya's past, as well as their first mission with Red Shield. The story also takes a bold leap away from the present time and immerses the characters into 20th century Russia during a period of political instability and turmoil - the Romanov era. Saya and Hagi have infiltrated the royal palace undercover as musicians, and Saya messes up her first assigned kill, upon discovering that the person she was sent to slay was still human. Meanwhile, Hagi uncovers a conspiracy involving a trusted aide of the royal family, and his loyalty towards serving Red Shield starts to waver, as he finds himself persuaded by the words of a charismatic man who already has the royal family under his charms...
For those who are well-acquainted with Russian history, you will be familiar with
Adagio
's strong historical references to characters, locations and events. Characters like Nicholas, Alexandrea, Anastasia and other members of the Romanov family all play an important role as the story unfolds, and you will be busy trying to separate historical fact from fiction... or is it fiction, really?
Whether you happen to be a new fan looking for a quick sampler into the world of
Blood+
, or a fervent fan of
Blood+
wanting to know more about Saya and Hagi's past, this series makes for an interesting read that can be enjoyed on its own, or together with the five-part main series. It comes highly recommended, so don't wait another decade to get into it!